Nali Bey Positive Dog Training - The Mayes Pack!
Getting to Know The Mayes Pack!
Hi everyone! This page is dedicated to my own furry family members who inspire me and challenge me every day! This is me and one of my 3 Siberian Huskies. When I'm not busy caring for them, my English Bulldog Riddick, my 2 tortoises, a few mice, whatever other rescues come to our house, oh yeah and our brand new puppy Loki, I enjoy doing animal/nature digital photography making fun doggie videos and staying sociallly conected in my spare time. Thanks and enjoy the site!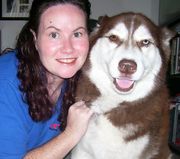 Strawberry Fields of Denali - "Nali"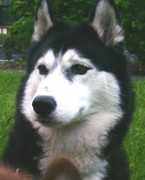 Nali is sort of the glue that holds everything together. She is our rock and my right hand girl. Nali is intelligent, confident, cool, calm and collected. In her 11 years she has conquered quite alot including motherhood (Abbey is one of her pups), being a lead dog on a sled team, getting certified as an AKC Canine Good Citizen, and being registered as a Therapy Dog. She knows what I think before I think it and I trust her with my life.
Abbey Road's Honeybear - "Abbey"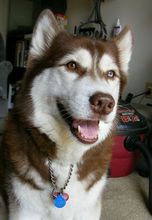 Abbey is the one dog that has shown me that hard work and dedication really does pay off in the end. Abbey is dominant, fearless and stubborn. A tough combination when she was younger. Now at 9 years old, she has become the one dog that everyone fawns over when we have guests. She was a wheel dog on a sled team and is also an AKC Canine Good Citizen and Therapy Dog. She is a big, fluffy teddy bear and doubles as my pillow every night. You just can't help but smile when you hang out with Ms. Abbey!
Seppala's Silver Sun King - "Seppala"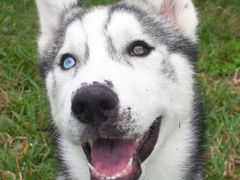 At 5 years old, Seppala has proven to be one of the smartest dog's I have ever known. He is fun and crazy and full of life. Seppala enjoys learning tricks and competing in Canine Freestyle routines. He's the type of dog that walks into a room and demands attention. He was named one of the Cutest Puppies of the World for 2007 and has won several awards for photographs he has been in. I tell him all the time that he will be famous one day! This September, Seppala became the 1st dog in the country (& only the 2nd dog in the world) to achieve his Champion Trick Dog Title! We have a very special, close bond and I am very proud of my baby boy.
Riddick aka "My Little Potato"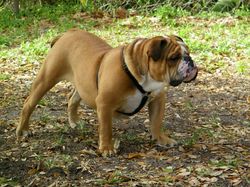 We adopted Riddick at 8 months old in December 2010. He was dropped off at one of the Brevard County Shelters and we ended up being his 4th home. For a bulldog, he can be very high energy, but the next minute he is putty in your arms. He is very sweet and affectionate and we have high hopes for this little bruiser! Riddick is following in his brother Seppala's pawprints, and in the short time we've had him, he has become the 1st English Bulldog in the country to receive the Champion Trick Dog Title. Riddick proves over and over again how wonderful adopted pets can be. He went from being a dog thrown away from multiple homes to a celebrity in the trick world. Way to go Riddy!
***Our Newest Edition - Loki***!!!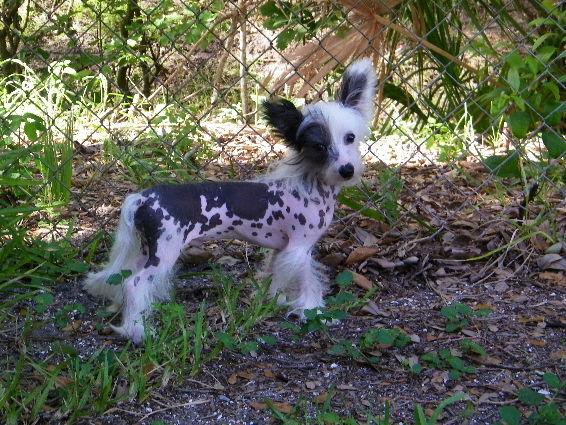 Loki was born on April 16th, 2012 and we just rescued him on September 12th! He is obviously a Chinese Crested pup and it just goes to prove - you can find ANYTHING in a rescue! Loki is a shy little boy (just like his big brother Seppala was when we 1st got him) so we are starting the fun socialization process and he is doing great so far! We have started his trick training and we even released his 1st learned tricks on our Youtube channel (TrickDogTrainer) his 2nd day home - AMAZING! He is quite the smarty pants and has been absolutely fantastic his short time with us. I'm sure you will all be seeng alot more of him in the future, either in your training classes or maybe on the big screen one day like his big brothers!
Thanks for visiting!