Kim Mayes - Trick Training
Welcome to the Fun and Challenging World of Trick Training!
Could your dog be a movie star?!
Did you know you can title your dog in tricks?!
Kim Mayes is a Certified Dog Trick Instructor (CTDI) and Team Captain of Rockin' Dawgs All-Star Dog Performance Team!
One of less than 100 Certified Trick Instructors across the country, Kim Mayes has always been a leader in the trick training world. Kim is now offering trick training classes and can title your dog in this up and coming sport.
Don't let the word "Trick" fool you. Tricks can range from "Taking a Bow", to "Turning Off A Light Switch", to "Getting a Beer From The Fridge" to "Scent Tracking a Person". There are many levels of difficulty and the complexity of some tricks are equivalent to going for your Utility Dog Title in obedience. Some even harder!
Think you've go what it takes?
Join
Rockin' Dawgs
our All-Star Performance Dog Team!!
We are always looking for new members to perform demos, performances and spread the joy of trick training!
Does Your Dog Has What It Takes To Be The Next Canine Star?
Carry My Purse,
Push A Shopping Cart,
Ring A Bell,
Say Your Prayers,
Hoop Jump,
Count,
Read A Book,
Figure 8's,
Skateboard,
Contraband Search,
and the list goes on!
Tricks are only limited by your imagination.
Acknowledge your pet's potential today!
Congratulations to Seppala TDCH (Champion Trick Dog)!
Congratulations go to Kim's Siberian Husky 'Seppala' for being the 1st dog in the country to achieve his Champion Trick Dog Title. He really is amazing to watch in action!!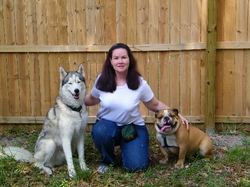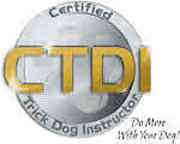 You can currently be titled in the following levels:
Novice Trick Dog (NTD)
Intermediate Trick Dog (ITD)
Advanced Trick Dog (ATD)
Expert Trick Dog (ETD)
Champion Trick Dog (TDCH)
Call/Email Kim for questions on how to get started and what is entailed to pass each level.
Challenge your dog and have fun doing it! See you tricksters soon!
Congratulations to Riddick TDCH (Trick Dog Champion) for becoming the 1st ever English Bulldog Champion!
Congratulations to Kim's English Bulldog 'Riddick' for being the 1st English Bulldog ever to receive the Champion Trick Dog title! We have big plans for the boys in 2012! Look out for our All-Performance Trick Dog Team in the month's to come!